In 2017 American singer-songwriter Martin Sexton [web site | Amazon.com] extends touring in support of his ninth studio release Mixtape of the Open Road. The Wall Street Journal and CMT premiered tracks from the album that since garnered much critical acclaim.
"Outstanding taste in songwriting as well as a soul-marinated voice." – Rolling Stone
Syracuse native Sexton got his start singing in the streets and subways of Boston in the early 90's. Still fiercely independent and headlining venues from The Fillmore to Carnegie Hall, he has influenced a generation of contemporary artists. His songs have appeared in television series such as Scrubs, Parenthood, Masters of Sex and in numerous films, though it's his incendiary live show, honest lyrics, and vocal prowess that keep fans coming back for more.
Remember that mix tape your friend made you way back when—the one that's etched in your soul? Martin Sexton's latest album Mixtape of the Open Road is that musical cross-country trip, blazing through all territories of style, as you cruise through time and place. This record is a charm bracelet of twelve gems all strung together with the golden thread of what Rolling Stone calls his "soul-marinated voice."
A native of Syracuse, N.Y., and the tenth of 12 children, Martin Sexton grew up in the 80s. Uninterested in the music of the day, he fueled his dreams with the timeless sounds of classic rock 'n' roll. As he discovered the dusty old vinyl left in the basement by one his big brothers, his musical fire was lit. Sexton eventually migrated to Boston, where he began to build a following singing on the streets of Harvard Square, gradually working his way through the scene. His 1992 collection of self-produced demo recordings, In the Journey, was recorded on an old 8-track in a friend's attic. He managed to sell 20,000 copies out of his guitar case.
From 1996 to 2002 Sexton released Black Sheep, The American, Wonder Bar and Live Wide Open. The activity and worldwide touring behind these records laid the foundation for the career he enjoys today with an uncommonly loyal fan base; he sells out venues from New York's Nokia Theatre to L.A.'s House of Blues, and tours regularly across Canada and Europe.
Happily and fiercely independent, Martin Sexton launched his own label, KTR, in 2002. Since then he has infiltrated many musical worlds, performing at concerts ranging from pop (collaborating with John Mayer) to the Jam scene to classic rock (collaborating with Peter Frampton); from the Newport Folk Fest to Bonnaroo to New Orleans Jazz Fest to a performance at Carnegie Hall.
Regardless of his reputation as a musician's musician, Sexton can't keep Hollywood away. His songs can be heard in many feature films and television including NBC's "Scrubs," "Parenthood" and Showtime's hit series "Brotherhood."
In 2007 Sexton began his most successful years to date with the release of his studio offering Seeds. The album debuted at #6 on Billboard's Heatseekers chart, and the Los Angeles Times wrote, "Call him a soul shouter, a road poet, a folkie or a rocker and you wouldn't be wrong."
The live CD/DVD set Solo, which includes a DVD of his performance at Denver's Mile High Festival, followed in 2008. In 2010, he released Sugarcoating. His latest release, Mixtape of the Open Road, came out in 2015. Popmatters called it "as cohesive and dynamic as the road itself…. Sexton whistles, croons, pines, roars, and beatboxes his way across 12 wildly individualized tracks, bringing them all together thanks to his own special voice driven by his strong sense of self."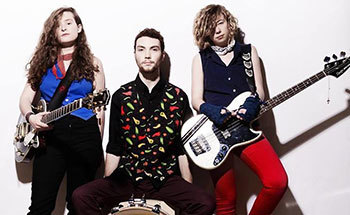 From 2012-2014, The Accidentals recorded three original albums, were guest artists on fifteen others, scored two films, and landed song placements in commercials, documentaries, and music compilations while playing over 700 live shows. THEN they graduated high school.
After graduation from Michigan's world-renowned Interlochen Arts Academy, Katie Larson and Sav Buist added multi-instrumentalist-singer-songwriter Michael Dause as their touring/studio drummer and opened for musical greats such as Andrew Bird, Dar Williams, Ladysmith Black Mambazo, Rusted Root, the Wailers, Arlo Guthrie, Joan Baez, and more. In 2015 they scored original pieces for a 72-piece orchestra, an opera-dance project with Son Lux (Glassnote Records), and a smaller 30-piece string ensemble while touring the US extensively.